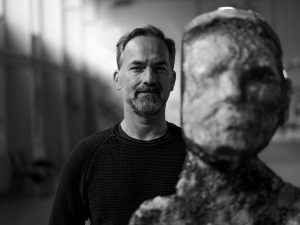 Born in 1968 in Frankfurt am Main, Achim Ripperger studied "with honors" at the Frankfurt Academy of Visual Arts AVA. His work as artist was preceded by a creative career in the advertising industry. Thematic focus of his works is the human being. As a physical and mental being full of strength and fragility, simplicity and genius, freedom and dependence, consciousness and subconscious. To oppose or to strive for the possibility of one's own self-realization. Ripperger's sculptures and paintings seek and rescue these often conflicting situations and develop their own, inward-looking language. Wherever the rational thought ceases and there is no word to be found, his works shall begin to work. This allows the viewer an unbiased view of "being human" in itself, as well as self-reflective observation.
Achim Ripperger's works can be seen in numerous exhibitions in Germany and Italy. In Italy, in 2016, he realized a large-scale sculpture in public space, the "Common Root". In 2017 a "pillar of freedom" made of marble on the Via Claudia Augusta / Laas, as well as the sculpture "All Free" for a multipart monument in Modena, Italy. In 2018 he created the 841 kg heavy bronze sculpture "Cohesion" for a Frankfurt financial company. 2019 he presents a new sculpture-installation "entangled" at an international art exhibition in China.
In addition to his solo projects, Ripperger develops, implements and supports initiatives that promote a
social and liberal society.
Achim Ripperger is the initiator of the integrative art project DAS NEUE HAUS, which is funded by the Department of Culture and Science of the City of Frankfurt am Main. The ensuing group work "INSTALLATION 108" will be installed in 2019 as a floating work of art in the newly acquired Office for Multicultural Affairs (AmkA) of the City of Frankfurt. www.dasneue.haus
As part of the group of artists TRUTHFIGHTERS, Ripperger and his colleagues draw portraits of journalists persecuted, imprisoned and murdered throughout the world. With traveling exhibitions, petitions and a website, the victims are remembered, imprisoned journalists receive support and a visible memorial for the freedom of the press is created. www.wahrheitskaempfer.de
Achim Ripperger is co-founder of the OstStern Cultural Association e.V. and realized Frankfurt's largest independent art and culture project as part of the OstStern team in 2018. The OstStern project was part of the popular NIGHT OF THE MUSEUMS program in 2018.
www.ost-stern-ffm.de
As co-founder and vice-chairman of the association "ART MOVES EUROPE e.V.", Achim Ripperger is committed to the European idea. The aim of the association is to activate participating artists in all European countries, plan traveling exhibitions, to develop ideas and to attract project partners and supporters from all sectors of society in order to initiate a far-reaching artistic dialogue on the values and visions of Europe as well as to promote an international outlook in all areas of culture and international understanding. The project will start in January 2019 and will culminate in late 2021 through networking of all activities. www.art-moves-europe.de
Achim Ripperger is married and has two children. He lives and works in Frankfurt, Germany.
Exhibitions and projects // Selection
"MIXED FEELINGS" City-Gallery, Wiesbaden, 11.9.- 30.09.2019
"SPECTACLE 2019" Art Museum of Jiangxi University, Nanchang, China, 11.05. – 21.05.2019
"INAUGURAZIONE SCULTURA" "Pietre per parlare", Modena 24.03-2019
"DISCOVERY ART FAIR" Forum Messe Frankfurt, Frankfurt, 2.- 4.11.2018
"IDENTITY" East> Stern, Hanauer Landstraße, Frankfurt am Main, 21.09. – 27.12.2018
"BE HERE" MAIN-TAUNUS KLINKEN, Bad Soden, 26.09.2018 – 31.03.2019
"TRUTH FIGHTERS" UNESCO World Press Freedom Day 2018, Ghana, Accra, 02. + .03.04.2018
"NIGHT OF THE MUSEUMS" EAST> STERN 121, Frankfurt, 05.05.2018
"SINCE I HAVE EVER SEEN EVERYTHING …" OST> STERN 121, Frankfurt, 29.04. – 26.05.2018
"THE NEW HOUSE" art project, OST> STERN 121, Frankfurt, January – December 2018
"TRUTH FIGHTERS" Hessian state parliament, Wiesbaden, 12th – 15th December 2017
"TRUTH" Interdisciplinary Center for Palliative Medicine, Agaplesion FFM, 10.10.17 – 31.01.18
"ART FROM HESSEN" Hessian state parliament, Schlossplatz 1-3, Wiesbaden, 26. – 28. September 2017
"LE PIETRE PER PALARE" German contribution to a monument, city of Modena, Italy, September 2017
"MOVE TO THE KNOWLEDGE" Hugenottenhalle, 11th August – 20th August 2017
"PILLARS OF FREEDOM" Pillars of freedon – Sculpture Symposium, Laas, Bolzano, Italy, July 29th – August 6th, 2017
"PEOPLE" La Scultura Racconta, Arte in Torre, Comune di Castelnuovo Rangone, Modena, January 14 – 29, 2017
"MOMENTS OF LUCK" Gallery "Mainzer Kunst! Mainz / Rhine, November 2016 – January 2017
"ANNIVERSARY EXHIBITION FRIEDRICH STOLTZE" Stoltze Museum, Frankfurt am Main, September – December 2016
"WHAT ARE YOU WAITING FOR?" Erlöserkirche Mainz-Kastel, on the occasion of the AKK Kulturtage, August – September 2016
"SOULS OF THE RIVER" BIMP Biblioteca Interattiva Multimedia, Pedaso, Italy, July – August 2016
"OUT OF THE ROOTS" L'Associazione & Galleria Sibilla Arte, Carassai, Italy, July – September 2016
"4QM TRUTH" Ideas for a Bremer "Arisierungs" Memorial, Bremer Landesparlament, June 28 – August 12, 2016
"FROM NATURE" GWF Winzergemeinschaft Franken, Würzburg / Kitzingen, June 2016
"MOMENTS" Foundation St. Matthew, Berlin, February – May 2016
"PALLIUM" Foundation Hospital of the Holy Spirit, Pallium Hohenwald, Kronberg, January – March 2016
"NATURE PUR" Gallery "Mainzer Kunst! Mainz / Rhine, November 2015 – January 2016
"FIGURATIVA" with Andrea Capucci, Sculpture & Painting, in Modena & Frankfurt am Main, October 2015
"HOPE" Center for Palliative Medicine in AGAPLESION MARKUS KRANKENHAUS Frankfurt am Main, July – Nov 2015
"ERIC" commissioned work, sculpture design (bronze) of the award "Apple Winemaker of the Year", June 2015
"NINE VALUES CUP" commissioned work, sculpture design (aluminum) for the int. "Football for Friendship" Forum. May 2015
"MOSES 3" Forum Art and Culture, Eurodebahnhof Herzogenrath, Audience Award 2nd place, Feb 2015
"MÜLLJUNGFRAU" Sculpture & Installation in Public Space, GREEN BOX, Kaiserpassage, Frankfurt / Main 2014/15
"ART TOTAL" Museum Modern Art Hünfeld, September 2014 – January 2015
"GRAPHIC" commissioned work, motif design for the greeting card of MUSEUMSUFER FRANKFURT Frankfurt am Main, 2014
"TREPPENKOPF" Sculpture for the "Week of Silence", Evang. Regional Association, Frankfurt am Main, 2014
"LORIOT ZU EHREN" Nomination, idea for a monument to Vicco von Bülow, Kunstverein Brandenburg an der Havel, 2014
"KUNSTPREIS 2013" received art-award, Wiesbaden Town Hall for the 50th anniversary of Telefonseelsorge Wiesbaden-Mainz
Achim Ripperger
Geboren 1968 in Frankfurt am Main, studierte er "mit Auszeichnung" an der Frankfurter Academy of Visual Arts AVA. Seiner hauptberuflichen Tätigkeit als freischaffender Künstler ging ein kreativer Werdegang in der Werbewirtschaft voraus. Thematischer Schwerpunkt seines Schaffens ist der Mensch. Als körperliches und seelisches Lebewesen voller Stärke und Zerbrechlichkeit, Einfachheit und Genialität, Freiheit und Abhängigkeit, Bewusstsein und Unterbewusstsein. Seiner Möglichkeit der eigenen Verwirklichung entgegenzustreben oder diese zu vermeiden. Rippergers Skulpturen und Malereien suchen und bergen diese oft zwiespältigen Situationen und Zustände und entwickeln eine eigene, nach innen gerichtete Sprache. Dort, wo der rationale Gedanke aufhört und kein Wort mehr zu finden ist, sollen seine Werke beginnen zu wirken. Dem Betrachter ermöglicht das eine unvoreingenommene Sichtweise auf das "Mensch sein" an sich, genauso wie eine selbstreflektive Beobachtung.
Achim Rippergers Werke sind in zahlreichen Ausstellungen in Deutschland und Italien zu sehen. In Italien verwirklichte er 2016 eine Großskulptur im öffentlichen Raum, die "Common Root". Im Jahr 2017 eine "Säule der Freiheit" aus Marmor an der Via Claudia Augusta /Laas, sowie die Skulptur "Alle frei" für ein mehrteiliges Monument in Modena, Italien. Im Jahr 2018 erschuf er die 841 kg schwere Bronze-Großplastik "Zusammenhalt" für ein Frankfurter Finanzunternehmen. 2019 präsentiert er seine neue Skulptur-Installation "Entangled" im Rahmen einer internationalen Kunstausstellung in China.
Neben seinen Solo-Projekten entwickelt, realisert und unterstützt Ripperger Initiativen, die eine soziale und freiheitliche Gesellschaft fördern.
Achim Ripperger ist Initiator des integrativen Kunstprojekts DAS NEUE HAUS, welches vom Dezernat für Kultur und Wissenschaft der Stadt Frankfurt am Main gefördert wird. Die daraus entstandene Gruppenarbeit "INSTALLATION 108" wird 2019 als schwebendes Kunstwerk im neu bezogenen Amt für multikulturelle Angelegenheiten (AmkA) der Stadt Frankfurt installiert. www.dasneue.haus
Als Teil der Künstlergruppe WAHRHEITSKÄMPFER zeichnet Ripperger mit seinen Mitstreitern Porträts von weltweit verfolgten, inhaftierten und ermordeten Journalisten. Mit Wanderausstellungen, Petitionen und Webseite wird den Opfern gedacht, inhaftierten Journalisten Unterstütztung zuteil und ein sichtbares Mahnmal für die Pressefreiheit erschaffen. www.wahrheitskaempfer.de
Achim Ripperger ist Mitgründer des OstStern-Kulturvereins e.V. und realisierte als Bestandteil des OstStern-Teams Frankfurts größtest unabhängiges Kunst- und Kulturprojekt im Jahr 2018. Das OstStern Projekt gehörte 2018 zu den Programmpunkten der NACHT DER MUSEEN.
www.ost-stern-ffm.de
Als Mitgründer und stellvertretender Vorsitzender des Vereins "ART MOVES EUROPE e.V." engagiert sich Achim Ripperger für die Europäische Idee. Ziel des Vereins ist es, in allen europäischen Staaten teilnehmende Künstler zu aktivieren, Wanderausstellungen zu planen, Kooperations-
ideen zu entwickeln sowie Projektpartner und -förderer aus allen Bereichen der Gesellschaft zu gewinnen um einen weitreichenden künstlerischen Dialog zu den Werten und Visionen Europas zu initiieren sowie eine internationale Gesinnung auf allen Gebieten der Kultur und Völkerverständigung zu fördern. Das Projekt startet im Januar 2019 und wird Ende 2021 durch eine Vernetzung aller Aktivitäten seinen Höhepunkt finden. www.art-moves-europe.de
Achim Ripperger ist verheiratet und hat zwei Kinder. Er lebt und arbeitet in Frankfurt am Main, Deutschland.
Ausstellungen und Projekte // Auswahl
"GEMISCHTE GEFÜHLE" Stadtgalerie am Markt, Wiesbaden, 11.9.- 30.09.2019
"SPECTACLE 2019" Art Museum of Jiangxi University, Nanchang, China, 11.05. – 21.05.2019
"INAUGURAZIONE SCULTURA" "Pietre per parlare", Modena 24.03-2019
"DISCOVERY ART FAIR" Forum Messe Frankfurt, Frankfurt am Main, 2.- 4.11.2018
"IDENTITY" Ost>Stern, Hanauer Landstraße, Frankfurt am Main, 21.09. – 27.12.2018
"SEI HIER – ESSERE HIER" MAIN-TAUNUS KLINKEN, Bad Soden, 26.09.2018 – 31.03.2019
"WAHRHEITSKÄMPFER" UNESCO World Press Freedom Day 2018, Ghana, Accra, 02. + .03.04.2018
"NACHT DER MUSEEN" OST>STERN 121, Frankfurt, 05.05.2018
"DENN ICH HABE SCHON ALLES GESEHEN …" OST>STERN 121, Frankfurt, 29.04. – 26.05.2018
"DAS NEUE HAUS" Kunstprojekt, OST>STERN 121, Frankfurt, Januar – Dezember 2018
"WAHRHEITSKÄMPFER" Hessischer Landtag, Wiesbaden, 12. – 15. Dezember 2017
"WAHRHEIT" Interdisziplinäres Zentrum für Palliativmedizin, Agaplesion FFM, 10.10.17 – 31.01.18
"KUNST AUS HESSEN" Hessischer Landtag, Schloßplatz 1-3, Wiesbaden, 26. – 28. September 2017
"LE PIETRE PER PALARE" Deutscher Beitrag zu einem Monument, Innestadt Modena, Italien, September 2017
"AUFBRUCH INS ERKENNTNISREICH" Hugenottenhalle, 11. August – 20. August 2017
"SÄULEN DER FREIHEIT" Pillars of freedon – Bildhauersymposium, Laas, Bozen, Italien, 29. Juli – 6. August 2017
"PEOPLE" La Scultura Racconta, Arte in Torre, Comune di Castelnuovo Rangone, Modena, 14. – 29. Januar 2017
"MOMENTE DES GLÜCKS" Galerie "Mainzer Kunst! Mainz/Rhein, November 2016 – Januar 2017
"JUBILÄUMSAUSSTELLUNG FRIEDRICH STOLTZE" Stoltze Museum, Frankfurt am Main, September – Dezember 2016
"WORAUF WARTET IHR NOCH!?" Erlöserkirche Mainz-Kastel, anlässlich der AKK Kulturtage, August – September 2016
"SOULS OF THE RIVER" BIMP Biblioteca Interattiva Multimediale, Pedaso, Italien, Juli – August 2016
"OUT OF THE ROOTS" L´associazione & Galleria Sibilla Arte, Carassai, Italien, Juli – September 2016
"4QM WAHRHEIT" Ideen für ein Bremer "Arisierungs"-Mahnmal, Bremer Landesparlament, 28. Juni – 12. August 2016
"AUS DER NATUR" GWF Winzergemeinschaft Franken, Würzburg/Kitzingen, Juni 2016
"MOMENTE" Stiftung St. Matthäus, Berlin, Februar – Mai 2016
"PALLIUM" Stiftung Hospital zum Heiligen Geist, Pallium Hohenwald, Kronberg, Januar – März 2016
"NATUR PUR" Galerie "Mainzer Kunst! Mainz/Rhein, November 2015 – Januar 2016
"FIGURATIVA" mit Andrea Capucci, Skulptur & Malerei, in Modena & Frankfurt am Main, Oktober 2015
"HOFFNUNG" Zentrum für Palliativmedizin im AGAPLESION MARKUS KRANKENHAUS Frankfurt am Main, Juli – Nov 2015
"ERIC" Auftragsarbeit, Skulpturengestaltung (Bronze) der Auszeichnung "Apfelwinzer/in des Jahres", Juni 2015
"NINE VALUES CUP" Auftragsarbeit, Skulpturengestaltung (Aluminium) für das int. "Football for Friendship" Forum. Mai 2015
"MOSES 3" Forum Kunst und Kultur, Eurodebahnhof Herzogenrath, Publikumspreis 2. Platz, Feb 2015
"MÜLLJUNGFRAU" Skulptur & Installation im öffentlichen Raum, GREEN BOX, Kaiserpassage, Frankfurt am Main 2014/15
"KUNST TOTAL" Museum Modern Art Hünfeld, September 2014 – Januar 2015
"GRAFIK" Auftragsarbeit, Motivgestaltung zur Grußkarte des MUSEUMSUFER FRANKFURT Frankfurt am Main, 2014
"TREPPENKOPF" Skulptur zur "Woche der Stille", Evang. Regionalverband, Frankfurt am Main, 2014
"LORIOT ZU EHREN" Nomination, Idee für ein Denkmal für Vicco von Bülow , Kunstverein Brandenburg an der Havel, 2014
"KUNSTPREIS 2013" Auszeichnung erhalten, Rathaus Wiesbaden zum 50J.-Jubiläum der Telefonseelsorge Wiesbaden-Mainz